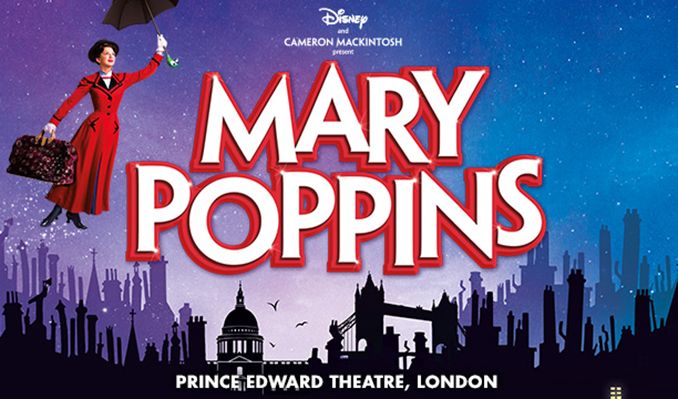 Address: Old Compton Street, London, W1D 4HS.
Opening: Now running
Closing:
Running Time: 2 hrs. 35 mins.
Mary Poppins Running with Packed Houses at Prince Edward Theatre London

Enjoy Musical Masterpiece Mary Poppins at the magnificent Prince of Edward Theatre London. The exciting story of four boys from the different side of track attaining international acclamations is certainly worth watching. With catchy tunes and beautiful lyrics, Mary Poppins is certainly a treat to watch out for! Book your Mary Poppins Tickets and get ready for some foot tapping and heart rendering music.

The magnificent theatre has been designed by immensely talented Edward A. Stone. The auditorium has been built to accommodate huge occupancy and extravagant musical shows with occasional film screenings. It is built in true Italian style with brilliantly colorful interior. The outstanding Deco interior has been designed by Marc Henri Levy and Gaston Laverdet. Other key highlights of Prince of Edward Theatre are series of Alcoves, amber glass covers and artificial fountains.

In the year 1930, the magnificent theatre was built with a huge occupancy of 1600. With musical comedy Rio Rita, Prince Edward Theatre has marked its opening. It was a big flop among the London spectators and was closed after 59 performances. Year 1936 marked the transformation of theatre into a scintillating cabaret restaurant. The stage was equipped with large kitchens and semi circular floor was fixed for dancing, whereas dress circle and stalls are linked with staircases. The magnificent theatre reopened once again as London Casino.

The Casino was overtaken by the Queensbury All Services Club during the Second World War. Some of the popular artists who performed were Vera Lynn, Jack Warner, Max Wall, Glenn Miller and Bing Crosby. Bernard Delfont and Cameroon Mackintosh have renovated the Prince Edward Theatre in the year 1993.

To make things more enjoyable and comfortable for you, Prince Edward Theatre is equipped with air-conditioned, infra-red, loop sound amplification and services for wheel chair. The brilliant auditorium is positioned at Old Compton Street, Soho.